John 20:19-31
"Shades of Grey"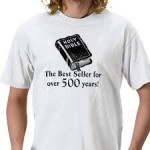 The bible: the good news, the Word of God. The bestselling book of all time. Wikipedia estimates that somewhere between 2.5 billion to 6 billion copies have been sold and continuing to sell 25 million per year.
One book made up from a collection of 66 individual books that are studied and revered and are misinterpreted and despised. A book that is many things to many people.
A book of stories: My non-Christian friend, staying at a motel on a business trip some twenty five years ago. Remarked that being bored and with no company started reading the Gideon's placed bible, and said "man that has got some good stories" Absolutely-each of them are potential Steven Spielberg blockbusters.
A book of History: Absolutely. The people, the times and places have been recorded and proven by archaeological and historical research.
A book of ethics: Even prominent, although balanced atheists will attest to the benefit of these teachings and instructions within society.
The book of a man named Jesus. An Adelaide radio identity remarked that while she does not have faith, she admires and respects Jesus, what he did and what he stood for. Stood up to the authorities, befriended the needy, led by example, was courageous-a good bloke that died because of his beliefs. Yep.
A book of power, that when manipulated or taken out of context has been be used as an excuse for ethics cleansing and countless atrocities.
A book of unity for those in Christ, yet a book that can see a group of theologians discuss a particular meaning for days, weeks, months or years. In which we can understand when we read the third to last paragraph in which we are told: Revelations 22, verse 18: "For I testify to everyone who hears the words of the prophecy of this book: If anyone adds to things, God will add to them the plagues that are written in this book; and if anyone takes away from the words of the book of this prophecy, God shall take away their part from the Book of life, from the holy city, and from things which are written in this book".
Yes, this can be a heavy book. Never mind that Jesus had this habit of talking in riddles-parables.
His words of unchanging truths, yet adapt to our changes in circumstances-trials, tribulations, joys and sorrows. Words that talk to us: Words that convict us, so that we can be set free.
Yes, this is a book to read, re-read and read some more.
Yet this is a book that talks of the beauty of having the faith of a child. Mark Chapter 10 verse 14 "Let the children come to me. Do not hinder them: for to such belongs the kingdom of faith".
The bible, like life can be confusing. I shared the supervision of about 60 people with another person. One of us saw everything in black and white, and the other in various shades of grey. One was if they do that and they're sacked, one was but why did they do it and plus, we all stuff up at times.
The word of the Lord, some may stand on a soap box and holler to the ridiculing passer byers that they are dead in sin-doomed. Another may stand up and give the impression that God so loves us that sin does not matter. Although if I had to, I would say the second statement: except that sin does matter-that is why Christ died-because sin does matter.
This book, the Word of God is a book of genius. It covers all bases; it strives in every way, wriggling through every nook and cranny of our hearts and minds to bring us the truth.
And that truth: I mentioned once before that Luther said if you only read one Gospel, read John. Why? Because the book of John brings our call to Christianity, the call and mission for the church and the gospel in the most explicit and understandable ways.
And he also said, that John is the sum of the bible, or like a miniature bible: "For God so loved the world that he gave His only begotten Son, that whoever believes in Him should not perish but have eternal life".
Today's Gospel scripture which most commentators write is the summary and conclusion of the book of John, which by extension is the summary of the whole bible, the whole Gospel message.
(and) what is that truth, the summary, conclusion or final Word. For a moment, hear and accept these words, the Words of God, said directly to each of you as individual's: -verses 30 and 31: "And truly Jesus did many other signs in the presence of His disciples, which are written in this book; but these are written that you believe that Jesus is the Christ, the Son of God, and that believing you may have life in His name".
That's it: So I ask you: In reference to John 3:16 and John 20:31, do you believe that God gave us His Son to bring us forgiveness? and Do you believe that Jesus is Christ, the Son of God?
If yes, let me tell me you, no, actually let God tell you His reply "That believing, You have life in His Name".
End of story-Amen.