SAUSAGES EGGS & BACON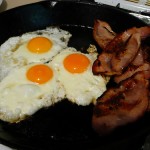 Anyone who enjoys a cooked breakfast cooked by our "Master Chefs" is welcome to come along and enjoy fine food fellowship and some thoughts to take home.
Led by Pastor each month, sometimes with a guest speaker, we gather together at around 7:30 am at St Marks for approx an hour and a half.
Held the first Saturday in the month you are all welcome.
If you would like to drop in and join us we are meeting on;
Saturday: 4th November 7.30 am 
*************************************************
05/06/2018
LOOK OUT we have a new Barbi .. Same old chef though..
05/08/2017
Men at work..the Manse. Breakfast first of course..


02/04/2016
Men's breakfast guest Steve Greentree talked to us about his career in wood chopping.
02/01/2010
**Happy New Year**
We are all one year older but still just as keen to get together in felloship and study. Today we were tested with a quiz Andrew brought along, testing us on our knowlege of the Christmas story.
We soon learnt that there is as much fiction as there is fact in our understanding of the Christmas Story. Andrew assured us that all the answers were in the "Good Book"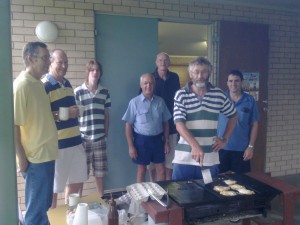 Talking with your work mates about Christ plants the seed in there heart so the Holy Spirit can then work in there lives.
7/3/2009

Today after
another great breakfast cooked by Bill we watch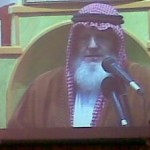 ed a DVD presentation on how a Christian man and wife and also a Catholic Priest were convinced to become Muslem.This was a very powerfull presentation which created a great deal of discussion.

1/11/2008
If you weren't there you missed a real fun time. What a great discussion we enjoyed looking at the question of "Climate Change".
Led by Pastor Brenton and looking at  Job ch38, a deep and meaningful, and i must say broad ranging discussion was enjoyed by all. The topic was following an article in the Lutheran magazine by Andrew Ruddell.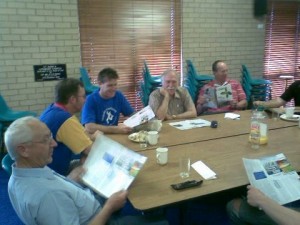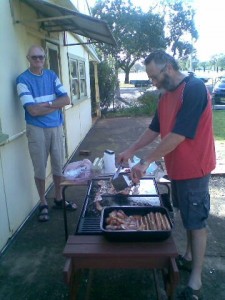 "Oh hum What shall i choose? What about one of Bill's soft eggs