All about Dubbo!
04/08/2018
Is this the worst drought in living memory??


29/07/2018
Here's a blast from the past…1963/64

28/01/2018
Installation of our new Pastor Joseph Graham by Levi Graham his brother, Bishop James Haak, Darren Kupke ( Temora ) and Greg Graham his dad.





Jaci Gulen's Confirmation day.
10/12/2017
12/11/17
Our guest preacher today, former Pastor Peter Hartwich.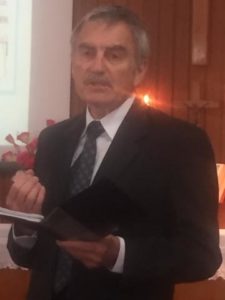 History was made in Gilgandra 12/11/17
 March 2017 Daryll Diane and family move to Port Macquarie.
Daryll and Lloyd set up a new business in Port Macquarie.

17/09/2017
The Baptism of Darcy John Joseph.
18/06/2017
First Communion
Rebecca and Charlotte.. Bisola.. Sophie and Jake
Pentecost 2017
Our new music group.
Baptism of Sam Boxall
21/05/2017



Guelen Easter 2017
Happy Baptisms..
05/04/2017
Annabelle Jordan – parents Katrina & James. Harry Bowsher – parents Elisha Kerr and Rhys.
 Look at all those kids!!



27/11/2016
The first Sunday in Advent.
Visiting Pastor Ian Kotzur

30/10/2016
REFORMATION DAY
Wow what a moving service conducted by our visiting Pastor. Pastor Hans from Canberra. A Parish Service of the western reigon well attended.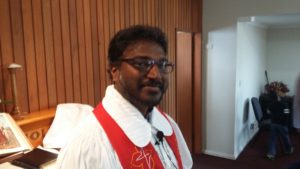 07/05/2016
Can I have four sausage samwiches three with onion ,one without and all with tomato sauce?….. thankyou.
Today was our first sausage sizzle at Bunnings ,the first of many we hope. A very busy and successfull time was had by all our volenteeres.

01/05/2016
Bishop Mark and Pastor David Thompson conducted Sunday worship service. There were lost of visitors from the convention, the singing was amazing.

After service Andrew Waldhuter spoke to us about the LLL, how important it is in the work of the church. We were encouraged to use REG as a regular form of giving.
30/04/2016
Today the Parish hosted the NSW Womens Convention
17/04/2016
Pastor Steve and family farewell day.
Pastor Hage from Parkes filled in for Bishop Leischke



31/1/2016
Pastor's last Harvest Thanksgiving with us.

03/1/2016
Peter Heintze preached today. Peter is a 4th Year Student at ALC..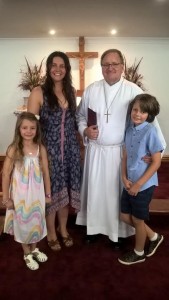 09/08/2015
Pastor Lieschke preaches.. following DCC Meetings.
Pentecost 2015
Celebration of all Baptisms.
18/04/15

01/03/15
Today Rachel gave a very informative report on her trip to South Africa.
30/11/2014
Farewell to Jenny today, we are sorry to loose another valued member.
Jenny is moving to WA

05/10/2014
Happy Days

23/05/2014
The Robin Mann concert was enjoyed by all who attended.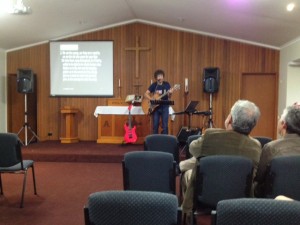 17/05/2014
Today a very successful Quilt show was held @ StMark's





11/05/2014
It's mother's day again.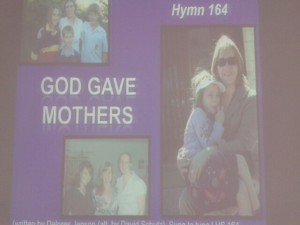 What you might give the mother..


19/04/2014
A wonderful day today with the private Baptism of Amelia..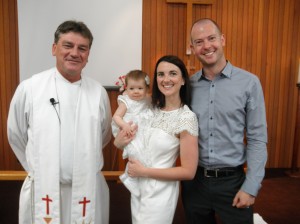 02/03/2014
Neil welcomes Pastor Steve as our new Pastor ,changing from L Plates to Full Licence. After two year we welcome Pastor Steve and his family officially to Dubbo and look forward to a long and fruit full time together.
6/10/2013
Today we enjoyed the company and great message from Mark Gierus 4th year ALC Pastoral student. Thanx MATE, may God bless your future ministry..

23/06/2013
We were visited by Marty from the Gideon Society. We all enjoyed listening to what he had to say and enjoyed his stories.In particular I remember his reference to John 3.16 and John 5.24
05/06/2013
Keith was laid to rest today, a valued member of St Mark's. Married for 66 years he will certainly be missed by his wife Audrey, his family and his many friends and acquaintances.

19/05/2013
Pentecost Sunday & Confirmation day.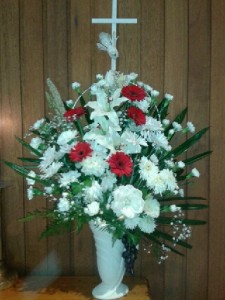 28/04/2013
Inge gives a comprehensive report on Synod held
in Adelaide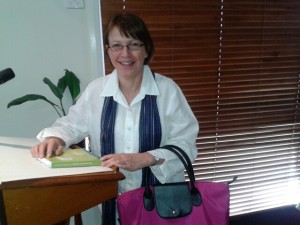 31/03/2013
Monster Baptism.
Today we welcomed not one,  not two,  but eight of God's children into His Kingdom plus their father Tim who was baptised last Sunday.
This is a record for St'Marks and probably for most congregations.
16/12/2012
Youth skit " Baptist Blue "
02/12/2012
Church youth with a presentation "Stones will shout"
25/11/2012
Ladies Guild zone rally held in Dubbo




28/9/2012
The passing of Jenny. Sadly missed by David
and the members of St Mark's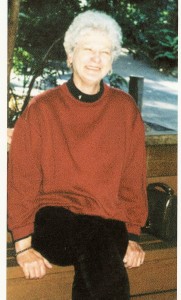 28/07/2012
Christmas in July at St Mark's

23/06/2012
The Mental Olympics'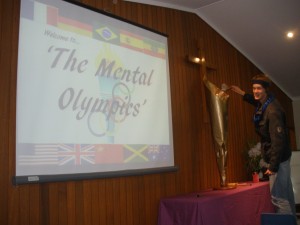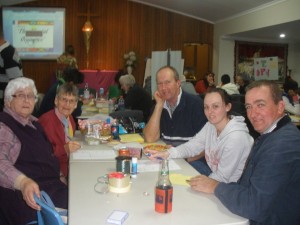 29/04/2012
Today we welcomed Riley Reichelt to the family of God.
Pastor Steve and family at the installation service.





29/01/2012
Harvest thanksgiving
15/01/2012
Neil presents a gift to Pastor John for his unselfish service during our vacancy.
13/11/2011


Members of the Parish attending a "Safe Church Training " seminar at St Mark's.


16/10/2011
Among the visitors at our worship service today were Peter & Ester Strelan. Peter has an interest in family history and has tracked his mother's (Erica Appelt/ Strelan) family back to the year 500
WHAT IS A DAD?
Father's Day 4/09/2011
A dad is someone who wants to catch you before you fall but instead picks you up, brushes you off, and lets you try again. A dad is someone who wants to keep you from making mistakes but instead lets you find your own way, even though his heart breaks in silence when you get hurt. A dad is someone who holds you when you cry, scolds you when you break the rules, shines with pride when you succeed, and has faith in you even when you fail…
Dad, you're everything a dad should be and some.
27/05/2011
On Friday 27th a large number of dear friends and relatives farewelled Allen, a quiet and unassuming member of St Mark's.He will be missed by us all.

08/05/2011


HAPPY MOTHER'S DAY MUM!!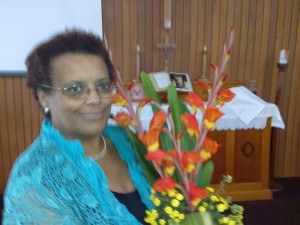 21/04/2011
This Easter we have been blessed with the kindness of Pastor Robert Borchert and his family who have been staying in Dubbo. Pastor has been conducting services in Dubbo and Gilgandra over the whole Easter week. We thank him very much!
25/12/2010
Today was a very sad day as Pastor Brenton preached his last sermon in Dubbo.His quick wit and sense of houmour will be really missed.He was the last of the holden supporters in our congregation and now FORDS reign supreme.
Julie and family have been a great support to all in our parish.
God bless them as they go!

 05/12/2010
Today the extentions to St Marks were dedicated to the glory of God by Pastor Brenton.

Also today it was with great regret we had to farewell Graham and Heather who have moved on to Albury to be near family.They will be greatly missed!!
01/12/2010
It's FLOOD time again.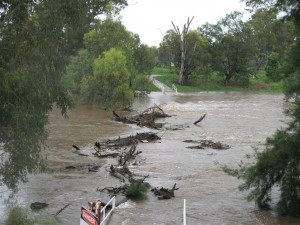 It's starting to look good 3/10/2010
17/07/2010
StMark's Dubbo is EXPANDING (DIY) Style

 19/05/2010
This week we witnessed the funeral of Quentin, long serving  and much missed members of St.Marks
28/03/2010
Palm Sunday in the park.
Some of our brightest stars painting the Children's Ministery Rooms.
 
07/03/2010

Today was Harvest Thanksgiving Sunday, a time when we give thanks to God for all the wonderfull things He provides.
Also today Darren was installed as our newest Church Elder. May God bless your work in the church as you serve your Lord.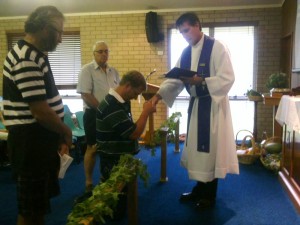 Faithful members of our Ladies Guild
14/02/2010
  Today we said farewell to Jessica who is going to Newcastle uni. Jessica is studing to become a nurse. She says she'll be back.
Also today we welcomed into Gods Kingdom through Baptism Benjamin Jaimes.
**HAPPY NEW YEAR 2010**
Pastor Brenton has been at it again this year, he tells us that he has caught FIVE of these so far and he's only been away for one week.  Sounds "FISHY" to me.
Weekend Camp 30/10/2009  to  01/11/2009
Trangie Research Centre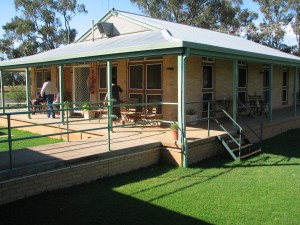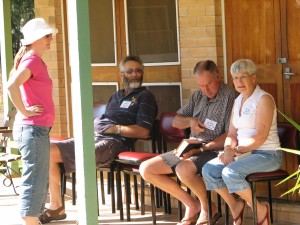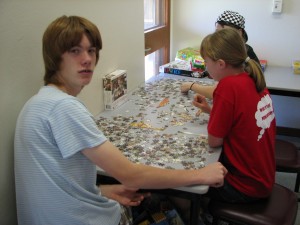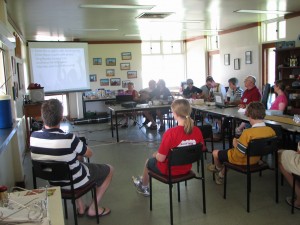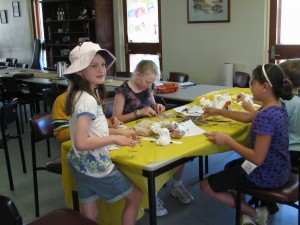 September 2009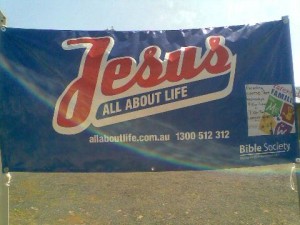 St Mark's has been running "Parenting Families"
sessions at the church.

23/08/2009
 On Sunday, 23 August 2009, four young people had their first communion, after completing an instruction course with Pastor Brenton.  This is another milestone in the children's faith journey, as they learn to confess their sins to God, and receive forgiveness through the sacrament of Holy Communion.
The BIG Garage sale.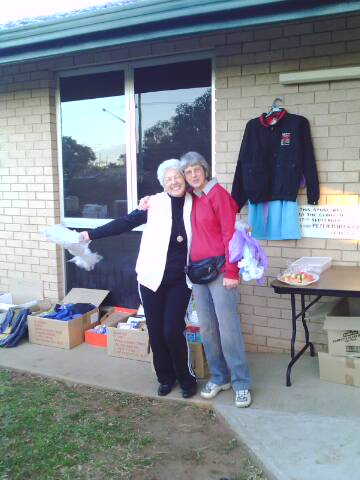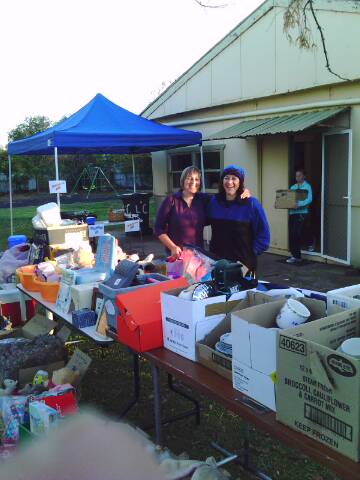 LWNSW Convention 2009
2/05/2009

"Passion, Compassion, Empowerment" was the theme for the LWNSW Convention held in Dubbo on 2 May 2009. Pastor Brenton Fiedler opened the convention with a devotion and a slight twist on the theme saying he thought a ladies get-together may include 'passion, compassion and…. fashion'!!  Dubbo's Mayor Cr Greg Matthews then welcomed the 80 ladies from 21 guilds across NSW to our city.
During the day we enjoyed a talk by Jeanie Kenny (filling in for Jenny Pietsch from Albury Aged Care) speaking about these Aged-care facilities. Other ladies from within the room also added their stories of their experiences of visiting or working at these facilities including our Margaret Rohrich. (Part of the day's offering went towards particular equipment needs for the Aged-care facilities.)
We were also treated to an eye-opening powerpoint presentation by Jenny Pfitzner from ALWS as she walked and talked us through the work that is being done overseas with the funds donated to LWS. A bible study with Pastor Geoff Kuchel, business matters conducted by Pastor David Freckelton,

a lunchtime skit,

a  talk by LLL's Marie Pawsey and loads of wonderful singing  made for a very full convention program. Many great comments were expressed for a delicious morning tea and luncheon (thanks to Gilgandra & Dubbo ladies),  for a great powerpoint accompanying our songs thanks to Heather Molkentin and a lovely theme banner by Kylie Semmler.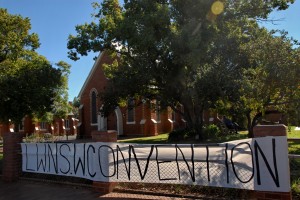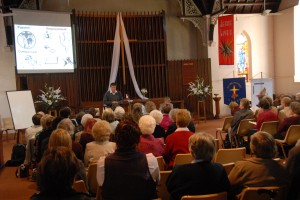 5/04/2009
Palm Sunday in Victoria Park
Christians from all denominations witnessed the acting out of the crucifixion and death of Jesus Christ.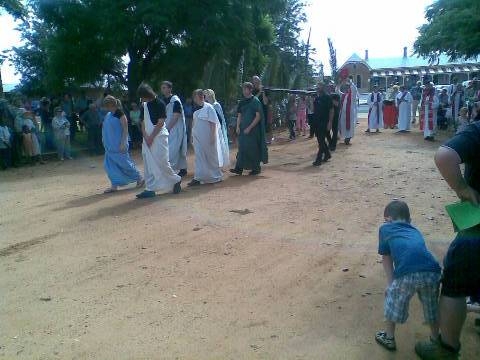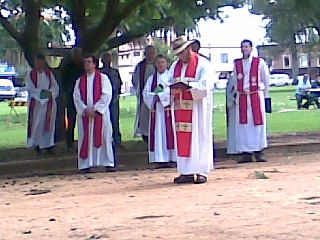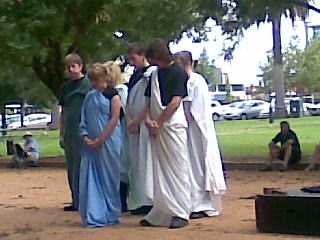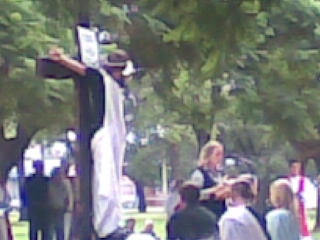 15/03/2009
During this mornings service Bill was installed as a replacement elder for Roy who retired.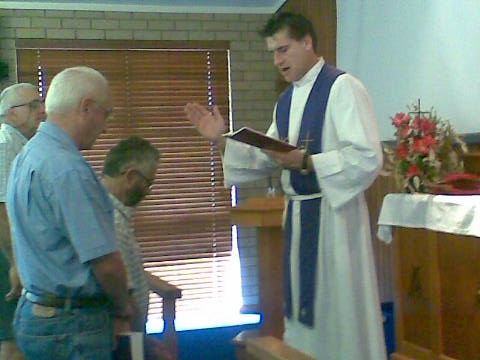 Also today we said farewell to Cathy. Cathy is moving to Albury.
15/03/2009
Today we held  our anual Parish Meeting. Reports were given by Pastor Brenton,  Kathy  and Diane. A bright future was seen for our parish and we were encouraged by Pastor Brenton .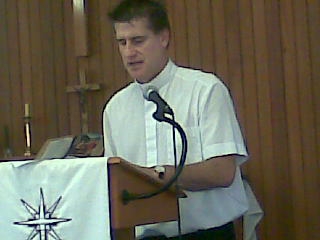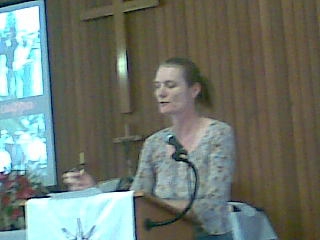 After Service a great meal suddenly apeared.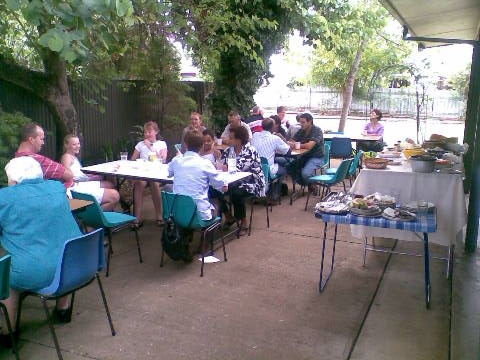 7/02/2009
The boys are at it again, fitting a used air conditioner in the window of the Sunday School Rooms.
We all helped by standing and watching.
(It's called moral support)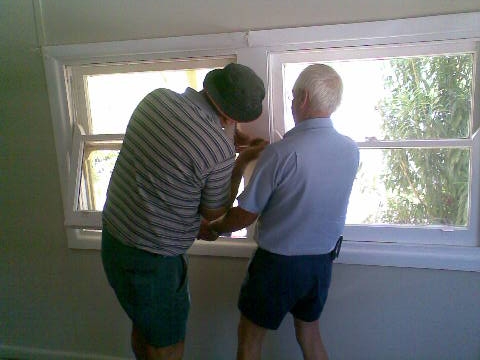 30th Anniversary & Affirmation of Pastor Brenton

 PASTOR BRENTON'S AFFIRMATION OF CALL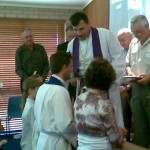 Dear friends we all have a story to tell about the year of God's favour as we look to the font and to the altar and as we receive the absolution and the Supper in hearing the Word.  Let's celebrate and give thanks.
And today we give thanks for those who have been called here to proclaim the Word and bring us the grace of God in their ministry.  Especially today we thank God for Pastor Brenton as we affirm his call as the herald; as the messenger to show us and teach us and proclaim Jesus to us.  Pastor Brenton is called and set apart in this community primarily for this.  He is a faithful servant and seeks to carry out his calling to the very best that he can.  Brenton we thank God for you as the Spirit of the Lord guides you in your ministry.  God is with you and he is faithful.  Through the word spoken and enacted God does what he promises.
Our call first of all then is to receive Jesus for us.  The church building assists us.  Our pastor is a gift to bring us the message.  But above all our call is not to a building but it is to focus on Jesus.  To receive all he has for us and to hear his call to us too.
For we too have received the Spirit of God.  We too are called to live and speak and act in the world.  We too are called to bring the good news to the poor.  Wow!  Friends this is certainly something to celebrate and give thanks for.  Our God fills us to be overfilling with his grace in this world, in this community!  He equips us with faith to worship him, to receive all his gifts and then to go out from this building to serve.

You are holy!

 

Paul writes in 1 Thess 5:22, 23.
Keith Jorgensen presented with a plaque for many years of dedicated grounds keeping at St Mark's: 14.12.2008 
Andrew and Rachael reporting to the congregation on their recent trip to Canberra.
"FAITH FIVE"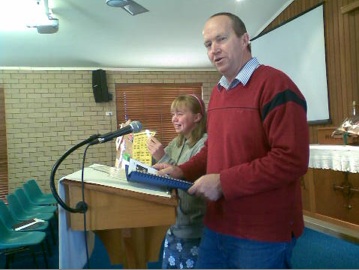 Renovating the old house at the church for Sunday school rooms and Kids Club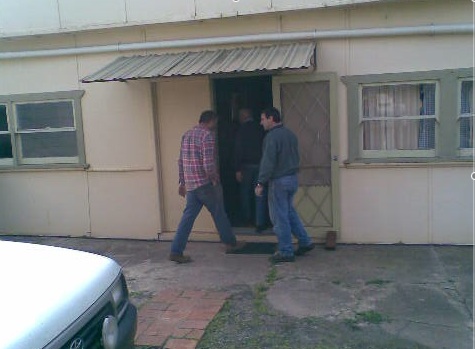 Winery Tour
On the 5th April 2008 members of St Marks and friends went on a tour of the Dubbo wineries. They visited four wineries and took a lunch break back at St Marks Church before soldiering on. Much monies were raised to replace the church carpet and other projects. It is plain to see a good time was had by all.