1 Thessalonians 1:2-6
What is it that keeps you going? What motivates you to do things for others? Some people are motivated by their love of a particular activity, such as gardening or sport. If you'd have asked what led the Christians of the New Testament to do all the extraordinary mission and welfare work they did, they would have said they were led by the Holy Spirit to share the good news about Jesus in word and deed. What a difference the presence of the Holy Spirit makes!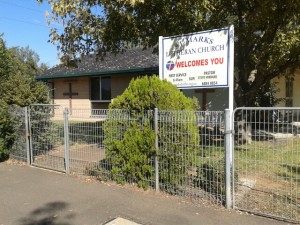 Before Pentecost, our Lord's followers were often weary and ran out of energy. This changed when the Holy Spirit came. At Pentecost, the Holy Spirit transformed the disciples of Jesus from being faint-hearted and cowardly folk into courageous heroes: awe-inspiring advocates and promoters of the Gospel; passionately committed Christians who boldly defied the whole Roman Empire and who, before long, were accused of turning the world upside down. In turn, those who became Christians (like the congregation in Thessalonika, to whom St. Paul writes this first letter) were filled with a radiant, active and productive faith and a powerful love for others.
St. Paul writes this freshly minted letter to encourage Christians who have made an enthusiastic beginning in the practice of their faith, to keep up the good work. Letters play a vital role in strengthening relationships between people. We delight to get personally written letters that share good news with us. We treasure St. Paul's letters with the wonderful way they're able to strengthen our faith and deepen our commitment to Christ and His Church. He begins on a positive note, constantly thanking God for all the faithful folk in His Church.
In today's world, faithfulness to Jesus Christ is a most commendable quality, worthy of praise and thanks. For our lives often get shaken by hardships, disappointments and setbacks. We don't always have a good day, despite what others say when they greet us with their cheery "good day to you". On those days when things don't go according to plan, or when we hear bad news, we need the personal encouragement and assistance the Holy Spirit gives. The Holy Spirit delights to be our P.A.- our personal assistant- amid all the joys and frustrations of daily life. The Holy Spirit is actively present amid the most adverse circumstances of daily life. He works in disappointing circumstances, taking us onto a different and more fruitful path through life. When St. Paul was driven out of Antioch, the Holy Spirit enabled him to rejoice in the new direction in which Paul was led, where He added greater blessings to his mission work.
The Holy Spirit can work wonders through our failures and setbacks. "The Spirit helps us in our weakness" (Romans 8:26) is one of the most comforting and consoling things said about the Holy Spirit in the Bible. The Holy Spirit works wonders through Christians who acknowledge their weakness and their need of the Holy Spirit's help. Our sense of helplessness before God is the most essential thing for effective prayer. Almost without exception, those who pray are aware of their own weaknesses and shortcomings, and long for all the help from heaven they can get.
The Holy Spirit treasures our weaknesses because they give Him more room to do His life-changing work. Struggling with our Faith with all the pressures placed on it in today's world isn't a sign of the Spirit's absence, but of His presence. Our struggle over our faith and our inadequate and less-than-ideal prayer life are the surest signs of the Holy Spirit at work inside us to keep our faith alive. A man came to a priest to tell him: "I have no faith." The priest, replied, "It is not your faith, my friend, but your conscience that is at fault." You see, the Holy Spirit had led him to come to a man of God who could help him come to faith.
The Holy Spirit seeks to glorify God in and through our weaknesses and inadequacies, because these lead us to depend more on His help than do our strengths and successes. The Holy Spirit isn't above details, like lighting lamps and sweeping out corners in search of one lost coin, as we read about in Jesus' parables. The Spirit is ours, not only for the high "inspired" moments of prayer and worship: He's there to assist us amid our daily routine and scarcely-noted failures. No prayer request is too trivial for Him. When we pray, the Holy Spirit gets to work.
The Holy Spirit and prayer are inseparable. As Paul tells us in Ephesians 6:18-19, "Pray on every occasion, as the Spirit leads. For this reason keep alert and never give up; pray always for all God's people." We need to "pray at all times" because there's a constant temptation to put off prayer. Plug up every gap and meet every eventuality with prayer. There's no Christian so weak that he or she lacks the strength to pray for others, and there's no one so strong that they can do without the prayers of fellow Christians for them.  We grow stronger in our faith and commitment to Christ Jesus by strengthening each other through prayer and Spirit-inspired words of encouragement. The simplest thing to do if you're finding difficulty praying for others is to follow Jesus' advice and pray that our Heavenly Father will give you the Holy Spirit. Jesus says, "If you, then, who are evil, know how to give good gifts to your children, how much more will the heavenly Father give the Holy Spirit to those who ask Him (Luke 11:13)."
The greatest contribution we can all make to the growth of Christ's Church (and we all want to see Christ's Church grow) is to pray for its mission outreach into our community. We need to pray for our next door neighbours and those across the street from us, as well as for our "not-yet-believing" friends and relatives. We bring them nearer to God through our persistent personal prayers for them. As we pray for someone dear to us, Satan's hold on them is broken. By praying for the pastors of our church, we help remove the obstacles Satan has placed to stop their ministry from succeeding. By interceding for our children and grandchildren, nephews and nieces, we are aiding their protection from temptation.
Who in our church or neighbourhood do we think is most at risk from the devil? Pray for them, and ask God to bless them. Such activity thrills the Holy Spirit immensely. The Holy Spirit seeks to make prayer a joyful and refreshing time for us. Our text mentions the joy the Spirit of God inspires in those who treasure the Gospel. "The more joyful you are and the more certain and sure the faith in your heart is, the nearer the Holy Spirit is to you (Luther)." The nearer the Holy Spirit is to you, the more you will want to bring joy into the lives of others.
A psychologist, Abraham Maslow, reported that:
"I never met a happy individual who was not committed to a job or cause outside himself. Because such people have a mission in life, they are not self-centred and introspective. For them happiness is the by-product of work and duty."
A young mother testified to the joy that living for others gave her:
"I was scurrying round the kitchen getting breakfast for my husband and our three children. The sun was streaming in, the sound of frying bacon mingled with the casual chatter of husband and children. As I looked at them I was so overwhelmed by their beauty that tears sprung to my eyes, and I was all joy."
The Holy Spirit inspires in us a joy that keeps coming back, a joy that eliminates pessimism and fills us with hope.
A lot of emphasis is sometimes placed on the Holy Spirit's gift of healing and this has had its rich blessings. But how should we view those who remain ill after many prayers for their healing?
Not all are healed, since sickness and death are part of the Church's glory. Sickness is a social sign; since social conditions have often contributed to the illness, the community has a responsibility for those who are ill. They must be visited and reassured they're not forgotten. Then their illness is no longer seen as the fate, deserved or undeserved, of an individual. Visiting the sick is a two-way street as our Lord ministers to the visitors through the sick. Illness can become a spiritual strength in our Lord's hands. It occurs so that the works of God might be manifest (John 9:3). Illness has as much a place in our growth in faith as good health.
The world has yet to see what the Holy Spirit can do with churches where every member is fully committed to Jesus Christ.
"Now to Him who by the power at work within us is able to accomplish abundantly far more than all we can ask or imagine, to Him be glory in the Church and in Christ Jesus to all generations, forever and ever. Amen. (Ephesians 3:20-21)."
We pray, "O Spirit of God, revive this church of ours, beginning with me. Amen."