Mark 9:2-9
And after six days Jesus took with him Peter and James and John, and led them up a high mountain by themselves. And he was transfigured before them, and his clothes became radiant, intensely white, as no one on earth could bleach them. And there appeared to them Elijah with Moses, and they were talking with Jesus. And Peter said to Jesus, "Rabbi, it is good that we are here. Let us make three tents, one for you and one for Moses and one for Elijah." For he did not know what to say, for they were terrified. And a cloud overshadowed them, and a voice came out of the cloud, "This is my beloved Son; listen to him." And suddenly, looking around, they no longer saw anyone with them but Jesus only.
And as they were coming down the mountain, he charged them to tell no one what they had seen, until the Son of Man had risen from the dead.
May the words of my mouth and the meditations of our hearts be acceptable in your eyes, O Lord, our rock and our redeemer. Amen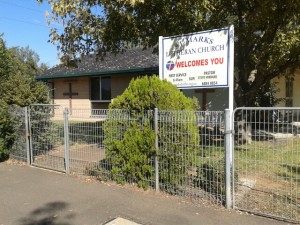 This is Transfiguration Sunday, the last Sunday before the season of Lent when we are reminded of the revelation of Christ's glory before His suffering and death. It is also Harvest Thanksgiving, when we give thanks to God for all the good things He has provided us with and offer a portion of His gifts back to Him as thanks. It also is our parish Annual General Meeting, many things we can be thankful for and many things where we try to allow God's glory to shine, so lots of things today.
One of the many things we thank God for is His Word, and so let's have a bit of a look at it. Just before this passage we have Jesus asking His disciples who He is, Peter replies, 'You are the Christ!' This Jesus was the promised saviour and King, the one who would restore Israel and bring God's righteousness to the World. After this Jesus teaches His disciples that He will suffer many things, be rejected by the spiritual heads, be killed and after three days rise again. Peter doesn't think this is very fitting for The Great King of the New Israel and tells Jesus off, Jesus replies with that famous phase, 'get behind me Satan'.
Then after six days here is our story.
Jesus brings His inner circle, James and John, and this Peter guy, the one who confessed Jesus as the Christ and rebuked Him as well. And so Jesus takes them up this mountain. I'm not going to do this justice, but  … Jesus is transformed before them and becomes brilliantly radiant, you could say the Light of the World, the glory of Jesus is shown to these three disciples. Then there was also Moses and Elijah, two key people of Israel's past, one the lawgiver and the other the prophet, both talking with Jesus. Peter, terrified by the Glory of Jesus, offers to build tents for the three, so they can stay a while perhaps doesn't know what he's saying. Maybe they might be able to guide the people from this Mountain where it appears God's glory resides with three actual people.
Can you imagine that? Maybe you have a disagreement with your daughter, dad, friend, brother in Christ, and you want it to be resolved, just go up the mountain and ask God. Maybe you don't know if you should buy that car, date that person, conquer that country, well God's up that mountain, just line up and ask Him. Or maybe you don't know what we as a parish should focus on and support, there's God up there in all His wisdom and speaking in a way we can easily understand.
Sounds great, hey!
But is that God's plan, to send Jesus to stay here and advise us from this mount on how to keep His law?
Or was it what Peter rebuked Jesus for suggesting? That the Christ must suffer and die, then rise from the dead?
Then comes the part I want us to remember. God's glory in the cloud covers the mountain, and a voice from heaven booms, "This is my beloved Son, Listen to Him!" This isn't a suggestion from God, it is a command. Listen to Him!
And what does Jesus say? What do we hear from Him?
Read His teaching, read the gospels, indeed Jesus is the Word of God, so read God's Word that He has so graciously given us.
Read that it is God who provides everything we need, Deuteronomy 8 (verse 12-14, 18), "when you eat and are satisfied, when you build fine houses and settle down,  and when your herds and flocks grow large and your silver and gold increase and all you have is multiplied,  then your heart will become proud and you will forget the Lord your God … it is he who gives you the ability to produce wealth".
God grants us life, Job 33 (verse 4), "The Spirit of God has made me, and the breath of the Almighty gives me life."
and, of course, salvation and eternal life "God so loved the world that He gave His only Son, that whoever believes in Him will not perish, but have eternal Life." John 3:16.
God our Heavenly Father, created all things, this we confess in our creed. To Him we own thanks for all things, most importantly, His beloved Son who saves us by His death and resurrection. We'll hear that story and promise again in the coming weeks. The promise of Christ.
Listen to Him.
Too often we listen to other things; to advertisements, what you really need is … whatever; to this world, telling us to 'work harder', that 'you need a break', 'don't get caught up about religion, we're all the same anyway'; we even listen just to ourselves at times, 'I'm a failure, useless' or 'I'm the greatest thing ever! Even better than sliced bread!' This is not good, it's not what God has told us to do and it takes us away from Christ's promises, that promise of salvation, forgiveness and life. Listening to others means we do not hear the Gospel.
So let us hear the Good News that God has given us, Listen to Jesus.
He told Peter, James and John on that mountain to tell about this experience after He had risen from the dead, and so let's tell our brothers and sisters in Christ about what Jesus has done, about what He has done for us. And be thankful for this, for Jesus' glory and power shown here, but moreso in the crucifixion and His resurrection. Be thankful for all that God has given us, for all that we have, for our lives and for His sure promises of forgiveness and salvation.
Thank you Father in heaven for all things you give us, help us not forget but rather to listen to your beloved Son, Jesus.
And may the peace of God which passes all our human understanding guard your hearts and minds in Christ Jesus, now and forever. Amen.

Joseph Graham