The Text: Isaiah 58:1-12 The Lord desires kindness and justice
"Shout it aloud, do not hold back. Raise your voice like a trumpet.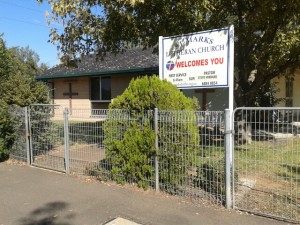 Declare to my people their rebellion and to the descendants of Jacob their sins. For day after day they seek me out; they seem eager to know my ways, as if they were a nation that does what is right and has not forsaken the commands of its God. They ask me for just decisions and seem eager for God to come near them. Why have we fasted,' they say, 'and you have not seen it? Why have we humbled ourselves, and you have not noticed?' "Yet on the day of your fasting, you do as you please and exploit all your workers. Your fasting ends in quarrelling and strife, and in striking each other with wicked fists. You cannot fast as you do today and expect your voice to be heard on high. Is this the kind of fast I have chosen, only a day for people to humble themselves? Is it only for bowing one's head like a reed and for lying in sackcloth and ashes?
Is that what you call a fast, a day acceptable to the Lord? "Is not this the kind of fasting I have chosen: to loose the chains of injustice and untie the cords of the yoke, to set the oppressed free and break every yoke? Is it not to share your food with the hungry and to provide the poor wanderer with shelter— when you see the naked, to clothe them, and not to turn away from your own flesh and blood? Then your light will break forth like the dawn,
and your healing will quickly appear; then your righteousness will go before you, and the glory of the Lord will be your rear guard. "Then you will call, and the Lord will answer;  you will cry for help, and he will say: Here am I. If you do away with the yoke of oppression, with the pointing finger and malicious talk, and if you spend yourselves in behalf of the hungry and satisfy the needs of the oppressed, then your light will rise in the darkness, and your night will become like the noonday. The Lord will guide you always; he will satisfy your needs in a sun-scorched land and will strengthen your frame. You will be like a well-watered garden, like a spring whose waters never fail. Your people will rebuild the ancient ruins and will raise up the age-old foundations; you will be called Repairer of Broken Walls,       Restorer of Streets with Dwellings
In today's Text, it's important to note who God's talking to. He's about to make a very big announcement and is calling people to listen. In this case he's not making this announcement to non-believers. He's talking to his own people, the people of God, the people he loves, forgives, and saves.
So what's this important announcement God makes? He says you're all guilty of rebelling and sinning!
Now you might argue you know you're a sinner, but you also know God to be gracious and merciful, a god who is slow to anger and abounding in steadfast love; this is why you keep coming back to worship, to seek his love and mercy, to be forgiven again and again. You come to hear his gracious words of love and peace, and how you may do his will.
God acknowledges this, saying he knows you seek him daily, intent on knowing his ways and activities. He sees how you perform all the right religious motions and say all the right things at church, but he can also see those times when you expect him to be good to you or bless you because you've done all the right things!
Then, when he doesn't answer you the way you want, you argue with God saying something like, 'Hey God, I've done all the right things, I go to worship regularly, I say my prayers before bed, but I'm not receiving the blessings I reckon are due to me! I've been good to you, why aren't you good to me?' Why won't you help me?
But God doesn't dish out blessings based on what is deserved. If he did, we wouldn't get any! 'Deserving' talks more about judgment, not about mercy. We want mercy from God, not judgment. But now, if God wants to be merciful and bless you, then that's up to him. It's his gift and he can give blessings when and where he chooses.
 Many people attempt to 'show off' their faith in some way or another. Some do it by  Cutting out (fasting) but not replacing, others do it by trying to hide their sinful self and act righteous. Well, God says he doesn't want you to fast or act this way. He tells you:
Fasting isn't just abstaining from foods, but abstaining from wickedness.
Fasting is forgiving enemies even though they hurt you.
Fasting is loosening the yoke of the oppressed, unburdening people instead of burdening them with your demands and expectations.
Fasting is definitely not making people work harder, but taking the burden off them.
Fasting is sharing your food with the hungry.
Fasting is bringing the homeless into your home.
Fasting is covering the naked.
Fasting is removing your accusing fingers and not causing fights and arguments.
Fasting is when you stop speaking foul language, stop lying, and stop verbal abuse.
Fasting is listening to people's desires and satisfying them.
Interestingly, most of these things God lists have very little to do with worship on Sundays, but how we live during the week. Remember, people can tell what our relationship with God is like by watching how we treat those around us.
If you put people down by insults or jokes, you may not be right with God. If you're pushy and bossy with people, thinking you deserve certain privileges, you may not be right with God. If you argue or fight with others, you may not be right with God. If you treat people badly out of spite or revenge, you may not be right with God. If you take advantage of, or exploit others, or think you're better than everyone else, you may not be right with God. If you put on an act in order to gain attention for yourself, you may not be right with God. Even if you do the right things with the expectation God will be good to you and give you what you want because you do the right thing, then you may not be right with God.
Well, this hasn't been a lot of good news so far, has it? Yet, there is good news. You see, God still loves you. Some say God loves you just the way you are, and he does. But he loves you even more than that. He loves you so much he doesn't want you to stay the way you are.
To be contuined next week.