Luke 24:13-35
Maybe it's the fact that I haven't read a novel in about 20 years, but for some reason I love the way the narrative unfolds in today's Gospel reading, the story of a journey takes us on a journey, it has changing moods, elements of surprise and even some irony.  As you read it draws you through from start to finish, it builds expectation, partly because we know the story, but also by the way the story is structured.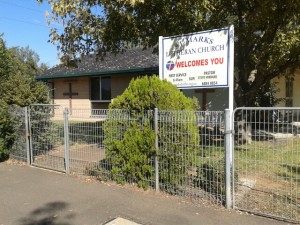 Here we have two men walking the seven mile journey from Jerusalem to Emmaus.  They've headed out following the events of Easter; they're sad, depressed, they have the events of the last three days playing on their minds as they walk along and discuss them.  They'd hope that Jesus was the promised Messiah, but then he had been put to death by the very people who should have been supporting him.  Its three days since Jesus died and they've heard stories from some women that Jesus' body was gone and that some angels had appeared and told them Jesus was alive.  Then to make things all the more troubling, some of their mates had gone to have a look and found the tomb was indeed empty but they hadn't seen Jesus either.
Then this guy comes along and he obviously hasn't been paying attention if he's been in Jerusalem and hasn't worked out what has been going on.  As an audience who already know the story we can see the humour in the situation, even the irony.  Here is Jesus standing right there with them, not only does he know what had happened in Jerusalem, but he was right at the centre of the activity.  If it was a pantomime we'd all be shouting to them, "It's him, it's Jesus that's talking to you."  Or "It's him right in front of you".  But alas they don't work it out.  We're told that their eyes were kept from recognising him.  We don't know whether that is simple lack of understanding or perhaps divine intervention, but like Mary Magdalene at the tomb, they didn't recognise who it was.  Well not at first anyway.
Perhaps not surprisingly, Jesus calls them foolish and slow of heart because they don't believe all that the prophets had said.  Then he sets about telling them all about the things that mentioned him, form the book of Moses (Genesis) right through the Old Testament.  It may have taken a while to finish that trip from Jerusalem to Emmaus, because there are lots of references that would have needed to be covered.  Still they didn't recognise him, even when they were nearing the village and Jesus went to continue on ahead of them.  They were polite though and invited Jesus to come and stay with them, it's not like there were lots of hotels there for him to book into after all.
So this stranger stayed with them.  Now we get to the good bit of the story, the bit we are hoping for even though we know it's going to happen.  He took bread, blessed it and broke it and gave it to them, does that formula sound familiar, have you heard it somewhere else in the last couple of weeks?  At last their eyes are opened and they recognise him, but hang on there's a bit of a surprise here, Jesus disappears from their sight.  Finally they work out who it is and 'pfft' he's gone, vanished, disappeared.
But they still seem excited, they realised that as Jesus was pointing out the realities of the scriptures to them, their hearts were burning, they were understanding that Jesus really was the Messiah that God the Father had promised and now they had seen him too.
Straight away they get up and head back to Jerusalem and find the disciples, and their experiences agreed, The Lord has risen indeed!  Then they told the disciples that Jesus had been made known to them in the breaking of bread.
They'd made the journey from sadness and confusion to excitement and understanding, they didn't need to search for answers anymore, Jesus had explained to them and then they had finally recognised him and understood.  It's a journey many of us have taken throughout our lives, perhaps often, perhaps all in one day or maybe even faster, depending on our personalities.
It's a similar journey to the one we take each Easter, depending on our situation and ability to attend some or all of the services from Maundy Thursday through Good Friday and the Easter Sunday.  We start with the celebration of the institution of the Lord's Supper and then hear of betrayal and end the service with the stripping of the altar.  Our Good Friday services are usually somewhat reflective and even sad or confronting, but there's still a looking forward to the events of Sunday.  Then we have the rejoicing and hallelujahs of our Sunday celebrations and Christ is risen.
In some ways our service each week follows a journey like that, we often begin with a song of praise, followed by confessing our sins, our failings as people of God, we get a lift when we hear the absolution and the readings.  We hear God's word read directly and then proclaimed in some way during children's addresses and sermons.  Then we again give thanks and break bread and pour out the wine, the body and blood of Christ as we rejoice with the whole church on earth and all angels and archangels as we share in the communion meal, still hosted by our Lord and Saviour Jesus, who comes to us in this meal.
We are then ready to leave, prepared for the week ahead, to go out like the two men who were with Jesus on the day of his resurrection on the road to Emmaus.  Just as they ran off back to Jerusalem to tell others about what they had seen, we should do the same.  We've got exciting news, we shouldn't be depressed about it, and there's no need to be shy either, Christ has risen from the dead, and in his victory over death we've had a victory as well.  We share in that victory, because in his death he has fulfilled the Scriptures.  The old covenant has been completed and we now live in the new covenant in his blood, shed for us for the forgiveness of sins.
So don't be sad or depressed about your faith, rejoice in it.  Don't stay away because you feel unworthy, come, come to the waters and drink, come you who are thirsty, as we sang in the hymn earlier at Lilydale.  "Just as I am without one plea, but that thy blood was shed for me, and that though bidd'st me come to thee, O lamb of God I come."  We bring nothing but what God has first given us, we are only worthy because his blood was shed for us, and he is calling us to come and receive what the Lamb of God has won for us and given to us, forgiveness of sins and life everlasting.
So enjoy your journey, yes it will have its ups and downs, but know that Christ is with you always and he reveals himself to us too, in the breaking of bread and in his Word.
Amen.
Pastor Tim Stringer