"Very truly I tell you Pharisees, anyone who does not enter the sheep pen by the gate, but climbs in by some other way, is a thief and a robber.2 The one who enters by the gate is the shepherd of the sheep. 3 The gatekeeper opens the gate for him, and the sheep listen to his voice. He calls his own sheep by name and leads them out. 4 When he has brought out all his own, he goes on ahead of them, and his sheep follow him because they know his voice. 5 But they will never follow a stranger; in fact, they will run away from him because they do not recognise a stranger's voice." 6 Jesus used this figure of speech, but the Pharisees did not understand what he was telling them.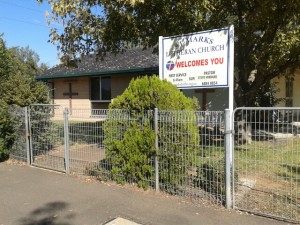 7 Therefore Jesus said again, "Very truly I tell you, I am the gate for the sheep. 8 All who have come before me are thieves and robbers, but the sheep have not listened to them. 9 I am the gate; whoever enters through me will be saved.[a] They will come in and go out, and find pasture. 10 The thief comes only to steal and kill and destroy; I have come that they may have life, and have it to the full.
 
On Good Shepherd Sunday, I ask one of the philosophical questions of the ages that have stumped many:  Do sheep have free will?  We usually understand "free" as in "free will" meaning free to do anything one wants.
Then yes, sheep seem to have free will: Â on their own, they will do whatever they want and so they easily get lost, upset, terrified, wanting luscious green grass until overgrazing and the like kills them, prone to the thief and the robber. Yes, sheep, if not guided, led, called, cared for, do whatever they want and that means injury and death.
That definition of "free will", doing whatever one wants, does not seem so free, does it?  There seems to be a wilful stubbornness on the sheep's part to do it my way and that is not free, but bondage, bondage of the will.  Do sheep have free will?  Answer:  No.
The sheep will go off on their own.  We all like sheep have gone astray, everyone to his own way. Yet, the will, the heart can be set free in the sight and care of the shepherd, trusting in Him alone:  to feed, to give drink, to be cared for, to be protected from enemies, from wolves to the weather.
"And that repentance and forgiveness of sins should be preached in his name throughout all the nations, beginning from Jerusalem." (Luke 24: 47) There is the voice of the shepherd. Recognize it and follow if you are a sheep.
There is only way to enter the sheepfold that is the Church:  going through the Good Shepherd.  He invites, guides and lets us in, night after night, day after day.
Sheepfolds were low stonewall enclosures which did not have wooden gates, they would probably rot too quickly exposed to the elements, but the shepherd himself was the gate, the door, as you can see on the screen.
The shepherd night after night, laid his body on the line for his charge.  He would not flee the sheep when they were attacked.  A shepherd's voice would reassure them in the storm raging in the night.  The Good Shepherd does not flee the sheep, nor fleece them, like the hawkers of false doctrines who smile pretty and talk about your best life now, that is your own life, not the Lord's indestructible life He gives freely to His sheep. Jesus promises the abundant life, His life, His flesh and His blood, not our flesh getting everything I ever wanted. The Good Shepherd's hand is imprinted with the mark of the nails.  This shepherd laid down His life for the sheep, for you.
Like a sheep on a shepherd's shoulder, you do not have to lug your sins around or pretend they do not exist or minimize their infection.  They are on the Good shepherd's shoulders as He was nailed to the Cross. Jesus is quite clear, He is not any shepherd.  He and His Father are one, one God. He alone has carried the full brunt of the just Law of God and it's punishment for our sake.
Jesus is saying this is what His Church is like:  a sheepfold.  Not grand and glorious is it?  People may think the magnificent church buildings of  Europe  and our nation are great to sight see, but will complain about the people who actual worship there are not a sight to see, "a bunch of hypocrites".  Yes, that's right, sinners, sheep. Kind of like a cop at a crime, nothing much to see here, move on…but don't move on, taste and see the Lord is good and His mercy endures forever..
In the parable of today's Gospel, the Lord Christ compares it [the Christian Church] to a sheep-fold. He compares the Holy Spirit to the Gate-guard, and Himself to the Door into this sheep pen, [as well as] to the Shepherd of the sheep. It is precisely for these reasons that these two items are placed side by side in the Third Article of our Christian faith, where we say: I believe in the Holy Spirit, one holy Christian Church, the communion of saints.
The first Christians on the day of Pentecost, when the Holy Spirit gathered them together, baptized into Christ Jesus, the Lord  showed them where to feed and be fed:  they devoted themselves to the apostles' teaching and the fellowship, to the breaking of bread and the prayers.  Anything else is junk food, a cheat.  Luke tells us they  were joyful.  Also, Jesus concludes the parable of the lost sheep, "Just so, I tell you, there will be more joy in heaven over one sinner who repents than over ninety-nine righteous persons who need no repentance."
Mothers and fathers give oversight to their children but they cannot over look them and their actions.  The price of parenting is eternal vigilance.  Getting children from point A to  point B day after day safely, with much prayer so they won't be lost is so akin to shepherding.  Keeping them away from the enemy, Satan, who has done quite a number on a culture astray.  Sheep going astray is not some prosaic, pastoral scene, sheep going astray means only thing:  death.
Parents bringing children to the Lord's House, His sheepfold, not keeping them away from Jesus, their Good Shepherd.  In my cynical moments, it seems that these days it is not 1 sheep who is lost, but 99, yet I do not know the ways the Lord is working, and He is working still.  With the Good Shepherd we need to rejoice in Him over one sinner who repents. There are parents in households and parents in the Church; pastors.
…the Chief Shepherd. He, in turn, has under-shepherds, which consist of all faithful teachers and preachers. In keeping with Christ's example, they are to faithfully graze the flock, direct them to the right Door, and guide the little lambs to Christ. Those who do otherwise, says Christ, are thieves and murderers, for they take away Christ's glory; and they kill the souls of men through false doctrine, just as death devours little lambs in a poisoned pasture. (Pr. Johann Gerhard)
The voice of the Shepherd is peace for it is the Word of our forgiveness and peace.
My sheep here My voice He says, and I know them and they follow Me, and I give them eternal Life. Just as Christ  teachings are a complete rule of faith, so also is His life a clear, complete mirror for every good work. Learn from Me, He says in Matt, 11-29, as if to say: You have enough to learn about My love, about My patience, My humility, meekness, friendliness to do you for the rest of your lives. As a result, you will well forget about the commandments of men with which you serve God fruitlessly and in vain, Matt. 15:9. 0 God, Father, Son and Holy Spirit, highly praised in all eternity: Give us all such an obedient, willing heart for following the voice of Christ in doctrine and life. (Pr. Johann Gerhard)
The Good Shepherd has the wounds of the Cross and His sheep have wounds, but He has branded His sheep with His Cross, in the Name of the Father, and of the Son and of the Holy Spirit. Amen.
Pastor Mark Schroeder