After half a church year today we arrive at Trinity Sunday. Last week we heard how the Holy Spirit was given at Pentecost; ten days before that the Ascension of our Lord Jesus Christ; another forty days again and it was Easter Sunday, Good Friday, and Lent.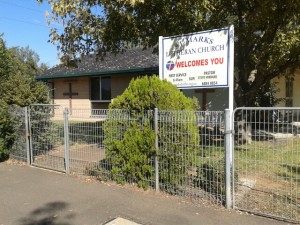 These days introduced the suffering, death, and resurrection of Jesus after the proclamation of his divinity in Epiphany, his humanity at Christmas, and his coming into the world at Advent, way back in the four weeks of December.
Now from today we focus on the Christian life in God's fallen creation, redeemed and being redeemed by the blood of Christ who is seated at the right hand of God the Father, together with the Holy Spirit, three persons in one God.
However, there is a tendency for us to believe if Jesus is at the right hand of God, in heaven, he is no longer here with us. That perhaps we have been, more or less, left to our own devices to fend for ourselves. Or we might recognise the presence of the Holy Spirit, who gives us the power to escape this world so we might ascend with our hearts and minds to a place were we see God. Since he is not attainable by our natural senses anymore! Right? Well no it's not! God's written word from Genesis one to Revelation twenty-two tells us otherwise!
In fact the thought that God is not with us in our creation, is a thematic thread right the way through the bible demonstrating the sinfulness and faithlessness of humanity. But rather, the Trinity is present in creation, giving us God's creation, so we might dwell with God in his threefold holy community of being and love.
Atheism and atheists, mock us because of our confession of an unseen Triune God and our hidden communion with him in his creation. However, these western infidels and scoffers of the Christian faith only exist because of Christianity. The Romans, who believed in a pantheon of gods, scoffed at the Jews after bursting into their temple in Jerusalem some two-thousand years ago, finding no visual God in the Holy of Holies. Go to a Hindu or a Buddhist country today and atheism is basically nonexistent.
Yet in the Christian world where God is hidden and there are no idol images of gods, it's not a big step to believe there is nothing. So today the modern cynical athiest claims there is no God and the word of God is just "pie in the sky, for those who are going to die".
On the other hand, we in the church in the second half of the church year celebrate the victory of Christ in his creation. However, neither the victory in creation, nor the God of this creation, is seen in the normal sense. God, Father Son and Holy Spirit, is not seen, and our world still seems to be spiralling out of control into greater and greater turmoil. Perhaps we might be tempted into the epitome of negativity with the atheist, and believe there is no God and therefore lose hope.
But God the Father, Son, and Holy Spirit calls us back into his word, and today especially his "word of beginnings". His victory calls us to see creation as it was at the beginning and as it will be at the end. And we're called to see what it is today with the eyes of faith in a world that would rather look into the misery and darkness of the hopeless self with human reason.
When we look at the creation account in Genesis one, God reminds us he loves us. He created the heavens and the earth for one purpose; for an environment where we might be with him in a threefold community peace. In his creation he created a paradise garden so that he might rest in it with us. However since the fall, it's been lost to our sin, but now since the cross access has been won by Christ's bloody death and glorious resurrection. And all creation now rejoices and looks forward in hope to the full restoration of creation.
So for us who believe in Christ's incarnation, death, resurrection, and ascension; for us who believe the Holy Spirit has been sent to reveal Christ to us in this creation; and for us who believe the Holy Spirit and Jesus Christ exist and work together so we might live in the presence of God the Father in peace — can turn back to the beginning and see the unseen reality of a hidden paradise won for us by Jesus Christ on the tree of life. Added to this we can examine the last chapters of Revelation and see the exact same reality, and continue in the same hope.
Many get caught out when looking at the creation account by falling into the debate on whether creation is seven literal days or perhaps something different. This argument only leads one away on a tangent from a correct emphasis on the creation text, regardless of what position one takes.
For us everything is a distant second from the little phrase in Genesis one, "And God said". In fact in our search for answers to creation, this simple phrase is in danger of being overlooked. But the whole point of the creation account is to draw our faith to God's word, in all its power and glory. God's word needs not our proofs or reasoning, but rather it demands our trust. God said it, it happened — do you now believe it?
The other thing we need to take notice of is the order of creation, and in understanding its order, we soon come to realise its function.
First we hear, "In the beginning God created…" To imagine nothing in the beginning, is impossible, and added to it pondering the beginning as an eternal timelessness, will only make you go completely crazy. We are beings in time and place, and have not the capacity to contemplate boundless nothing. But having said that, God was there before any of it and this can only be believed by faith.
At the other end of the creation account, in Genesis 2, after all had been created by the word of God, God now rests in time and space in his creation.But God created this day of rest for a holy community – us and him together in peace.
All the events of creation fall between these two events in a very deliberate order, so this community of peace can exist in a perfect paradise with a thrice holy God. In fact creation's order rolls along like a snow ball growing, or like an onion having its layers put on one after the other. In this way the first event of creation, serves the second, and so on until God rests in its completion.
The second last event God commanded in creation is the making of us, and in seeing the order of creation we learn that God created one thing after the other for you and me, in community. And at the very last he desires to be present with humanity in peace and perfect joy.
Now we know a lot has happened since God created the heavens and the earth. But he also calls us to now know that this reality has been restored in Jesus Christ by the power of the Holy Spirit.
So as we travel through the next half of the church year, we are called to see with the eyes of faith that the Triune God is present, although hidden.That we are called to peace with God, peace that passes all human understanding, peace that enables us to realise we are already in the arms of a loving God who calls us to rest with him, and trust that an eternity with him has been happening since our baptism and will continue on unto eternity.
We can all take stock from the last words in the bible from Revelation chapter twenty-two, where Jesus assures us that "Yes I am coming soon!" And we rest in response, "Amen, Come, Lord Jesus come." As we trust the ever-present reality of the last verse, "The grace of the Lord Jesus be with God's people. Amen." (Rev 22:20-21)