1 Thessalonias 4:13-18
There is nothing quite like a game of peek-a-boo.  Face behind the hands, or ducking behind a chair, or through a door—a baby intrigued; then a moment of surprise or even shock; followed by a baby's laughter.  It is a great game!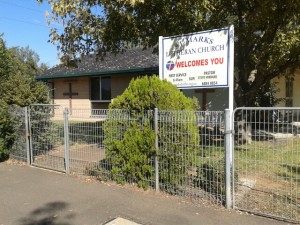 Mind you, it's not entirely a game.  It's actually part of a learning process in which a child, often around the age of eight or nine months, gets a grasp of what is known as "object permanence"—the understanding that when we see something, and then it is covered up, or removed, or a person leaves the room, that object still exists, that person still exists.  Once a child gets a hold of this you can put a toy on the floor and cover it with a blanket and the child will reach for it, look for it under the blanket.  The child will also get anxious sometimes when Mum or Dad leaves the room—still existing, but not there to be seen!  So where?  And for how long?
Of course the same learning that makes for peek-a-boo giggles is a developmental concept that also allows for separation anxiety….
There is a gentle reminder of "permanence" in our funeral service when, as the coffin is about to be lowered into the grave, or removed from sight for later burial or cremation, and these words are spoken:
We do not want you to be uninformed, brothers and sisters, about those who have died, so that you may not grieve as others do who have no hope. For since we believe that Jesus died and rose again, even so, through Jesus, God will bring with him those who have died. Therefore encourage one another with these words.
Paul wrote these words to the young Christian church at Thessalonica—to Christians who were concerned that Jesus was taking a long time coming back.  It is hard for us to appreciate just what it was like for those in the very first generation following Jesus' death and resurrection and ascension, living each day with the wonderful promise and an imminent sense of his return!  Maybe, if we can draw on base childhood feelings—as we get just a bit agitated that Mum or Dad hasn't returned, isn't back in sight, isn't visible in that comforting, reassuring way we need…not quite quickly enough.
That is how the first generation of Christians waited—wavering, at times, between joyful anticipation and expectation, and natural moments of anxiety.
And the anxiety became accentuated as fellow Christians began to die.  The waiting for Jesus of weeks, or months, became long years…and aging Christians began to die.  And for the first time the Church's pastors had to deal with questions like, "What happens to a Christian when he dies?  What will happen in the resurrection?  What will we be like?  Will we be young or old?  What will 'perfect me' look like?  Will we still know everyone?  What happens in-between, after you die, before the resurrection?"
And the questions may come from all kinds of different thinking—about personal health, about relationships, about fears, about loved ones.
And how does the Bible answer these troubling questions?
In many ways, to be frank, it doesn't.  (Not how we would like it to, anyway….)  In another way, it does so in a most direct and simple way:  it points to Jesus.  When you read through the New Testament you tend to come across a couple of expressions.  For one, it talks about Christians who "have fallen asleep in him", that is, in Jesus.  Asleep in Jesus.  It talks about those who have "died in Christ".  In Christ Jesus.  And elsewhere it talks about those who are "with the Lord".  WithJesus.  All of these expressions focus Christian faith on Jesus; they direct questions—even anxious questions—to considering Jesus; in relation to Jesus.
Try and imagine, again, if you can, those living in the years immediately following the events of Jesus' death and resurrection.  The witness of Jesus' first followers to Jesus' teaching, to Jesus' miracles, to Jesus' compassion, to Jesus' sensitivity, to Jesus' loyalty, to Jesus' power, to Jesus' care; to the way Jesus included people, forgave people, welcomed those sometimes rejected by others, his generosity, his patience, his honesty, his directness, his gentleness, his wisdom, his mercy.  The immediacy of the events for the witnesses who then spread out through the world and proclaimed hope because of God's love—the immediacy of the events was translated into an energy and capacity to create an experience of Jesus' presence, even for those who, like the Thessalonians, had not seen him for themselves.
The specific question that Paul addresses is a concern that if a person dies before Jesus' return then will he or she somehow miss out on the big event?  Paul assures them that those who are "dead in Christ", or those who "have fallen asleep in him" are in him, are in Christ—the nature of the relationship is there, is real, alive or dead—in the reality of the risen Jesus, no matter what we seem to see or perceive or even fear because we can't see, or don't know….  Paul asserts this emphatically to a people who are anxious and confused—(we know how that feels!)—he asserts this emphatically because he does not want us, in our grieving—(and grieving is real; it means giving up control of a situation; it means change in a situation, in a relationship)—he does not want us to grieve "as others do who have no hope".  Christian hope is about a certainty in something that is real, but not yet realized.  If we are to hope—even in a time of grief—if we are to hope in Christ, in Jesus, we hope based on a relationship with Jesus that is real even before we see him face to face when he comes again.
Where does that "real" come from?  Not one of you here has lived at a time when Jesus has walked among us in the way that he did during his time of ministry in the first century.  (I allow that some of you may have well heard his voice or seen his smile or known his reassurance in dreams or visions or experiences where you're not quite sure what was going on.)  But it hasn't been, for us, like it was for the first apostles.
And yet, by faith, our hope is real.  Our hope in Christ Jesus.  Where does that come from in this day and age?
Of course, it is the work of the Holy Spirit.  And the Spirit works through God's Word, in all the variety of ways that we proclaim it; the Spirit works through the Sacraments of baptism and communion with a visibility and physicality that connects each of us personally to God's Word, God's grace, God's promise; and the Spirit works through these means through the on-going day to day ministry of people—teachers and pastors and friends and parents (and you get the drift)—ordinary and extraordinary people—who help to give an experience of the concrete reality of God's saving love and saving presence through day to day faithfully "being Christ" to others; being the presence of Christ in the lives of others.  When the Bible speaks of us, the Church, as the body of Christ, it is much more than a picturesque metaphor for how Christians should relate to each other under Christ; it is a rather powerful statement about Jesus' real presence in the world today!
About 20 years ago I read an article written by an Anglican school chaplain, in which he asserted that for large numbers of young people growing up in Australia, the school chaplain would be the concrete symbol of God and God's church which they encountered in life.  While I have a much broader picture of what happens in a church school than that it was a comment which made me realise the significance of the opportunity which I have to "make real" and "meaningful" in the life of a person the Gospel of God's love in Jesus, which I proclaim.  Every time I speak a word of forgiveness, every time I show some care, every time I teach or direct or counsel according to an understanding of the gracious will of God, every day I remain loyal and patient, every time I bounce back from disappointment and make a new beginning with someone struggling or in a situation of pain and loss—these all give me the opportunity to make Christ real, to make Jesus' presence real.
Most of us will know well that it is a lifetime of knowing the reality of God's love spoken and shown to us that enables us to know the real presence of Jesus' love remains, and is constant even at those moments when we can't seem to see what we trust without seeing; when our hope, our assurance in the promise is filled with an experience of knowing faithfulness in the past; when our grieving at the tomb is balanced with our celebration of the life we have known.  Every sermon you have listened to, every lesson taught from the Scriptures, every hymn or song sung in worship, every speaking of God's word of forgiveness, every wafer and sip swallowed, every splash from the waters of the font, every gesture of comfort or aid or encouragement or acceptance in the name of Christ has been for you, through others—God's servants of every kind—the presence of Jesus in your life in way that has taught you "object permanence"—Jesus permanence, grace permanence, life permanence.
The apostle and evangelist John put it like this in the first century:
That which was from the beginning, which we have heard, which we have seen with our eyes, which we have looked at and our hands have touched—this we proclaim concerning the Word of life.  We proclaim to you what we have seen and heard, so that you also may have fellowship with us. And our fellowship is with the Father and with his Son, Jesus Christ.
That tradition of ministry has made Jesus' presence real for us.
You are a part of that tradition.  You know the constant grace of Jesus.  So encourage one another with these words, and encourage people, with the word of his love, and his life, to know his presence, his permanence.  Amen.