Isaiah 40:1-5
Comfort, O comfort my people, says your God. 2 Speak tenderly to Jerusalem, and cry to her that she has served her term, that her penalty is paid, that she has received from the Lord's hand double for all her sins. 3 A voice cries out: "In the wilderness prepare the way of the Lord, make straight in the desert a highway for our God. 4 Every valley shall be lifted up, and every mountain and hill be made low; the uneven ground shall become level, and the rough places a plain. 5 Then the glory of the Lord shall be revealed, and all people shall see it together, for the mouth of the Lord has spoken."
Isaiah spoke to the Israelites held captive in Babylon.  The Babylonians had taunted the Israelite captives, exiles…  
     "By the rivers of Babylon we sat and wept when we remembered Zion.  There on the
poplars we hung our harps, for there our captors asked us for songs, our tormentors
demanded songs of joy; they said, "Sing us one of the songs of Zion!"  How can we sing
the songs of the LORD while in a foreign land?"  (Psalm 137)
And so there was silence; seventy years of silence; a whole lifetime of silence.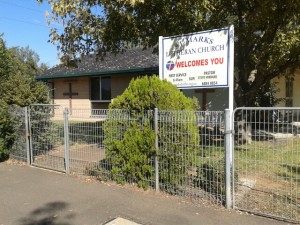 Until God speaks!  "Comfort, comfort my people!"  Enough is enough!  What they had borne, what they had suffered—because, as a nation, as a people, they had been proud and stupid and hadn't listened and hadn't obeyed—'actions have consequences' and all that stuff…—enough is enough.  "Comfort, comfort my people!" says God.  And once his "comfort" has been spoken, it must happen—his Word cannot return empty—it achieves what he sends it out to do—in the beginning 'light' and there was light—here 'comfort'—God's comfort.  The Hebrew sense of the word 'comfort' is the 'turning away of suffering'—it is not a "there, there"…it is an active involvement in, engaging in the process of taking away what brings suffering.  For Israel, on this occasion, it meant God's act of deliverance; it meant forgiveness; it meant a return home; it meant restoration.
God's action here begins with a call for preparation.  The Israelites in exile knew well the long, lavish, imposing, purposely laid-out processional highways of the Babylonian city for the ceremonial welcoming of the king or of the gods.  These highways had been symbols in Israel's history of its defeat and humiliation, of the might and power of those who had conquered them.  But now a new highway was to be prepared—a highway which left the towering temples of Babylon behind—a highway across the emptiness of the wilderness (an emptiness that figured prominently in Israel's history—a place of learning to wait humbly for God's provision)—across the wilderness and into God's promised land—a highway for "the Lord", for our God, to reveal his glory, to demonstrate his faithfulness to his promises.  "The Sovereign Lord is coming to rule with power," Isaiah shouts, "bringing with him the people he has rescued."
When God's prophet John (the Baptist) arrives centuries later his voice again breaks the silence.  Another long silence.  Israel had again, as so often before, stopped listening to God's voice and filled their heads with their own babble.  And when their proud plans and proclamations of self-importance were again tramped into the dust by the boots of an invading army (or two, or three…)…God waited…and eventually they heard and knew the silence.
You may have noticed, over the years, how hard we find it, generally, to sit and wait…and listen in silence.  Many self-nominated "good listeners" are actually people who simply have an awful lot of good advice to dispense!
A couple of weeks ago a person talked to me about a particular situation; started crying and cried the whole way through; told me of the things that were hurting; told me of a sense of loss—didn't ask me what to do!—just told me of a deep sadness…and cried some more.  "You feel really sad," I said eventually.  "Yes," was the reply.  And silence.  And more crying.  And "thank you".  [I must say, I was very impressed by the person's own handling of the actual situation—a deep love and loyalty and commitment, an amazing spirit of sensitivity and great courage; had managed the situation beautifully!; but it was one of those situations that we all know about in this world, where hurt and pain and sadness are profoundly real.]
There were no appropriate platitudes.  No little "gems", "pearls of wisdom", cute clichés that would fill the silence.  Better to be silent.  And listen.  Wait…be ready to listen….
Quite a few years ago, deep in the season of Advent, I lost my voice.  It was no cough or cold, but a tumour on my thyroid gland.  I didn't know it was there until it started bleeding internally and swelled up alarmingly.  Ten doctors in the emergency ward that night each said they wanted to check with another until finally a specialist figured out what was going on.  I lay a couple of days in hospital under observation, until they were convinced the tumour would not obstruct my breathing, and then was sent home a day or two before Christmas.  I still had to wait a couple of weeks for surgery, and the final verdict.  The tumour prevented me from speaking normally.  The surgery might possibly cause permanent damage to my vocal chords.  And the question about the—you know—'nature' of the tumour had to be finalized.
So I was a Christian, a pastor(!), at Christmas, with no voice.  Silent.  Couldn't speak.  Couldn't sing.  I spent a whole Christmas…just…listening.
Advent begins, in a sense, when the silence begins.  When you and I have nothing more to say, and so we are ready to listen.  Then, into our silence, God speaks, "Comfort, comfort! I am coming!"  Then we are able to hear one proclaiming repentance for the forgiveness of sins—clearing out the cause of our troubles and worries and making a highway for our God alone—allowing God to speak, and God to act, according to God's plan—allowing God to be God!—"God with us".
In a bush, in the emptiness of the wilderness, burning but somehow not destroyed, God said to Moses, "I am."  To the prophet Elijah, wishing to die because no one would listen to him, God speaks his presence and promise not in a storm but in a whisper.  And when the "mountains fall into the heart of the sea", the "waters roar and foam", "the nations rage, the kingdoms totter", God says, "Be still, and know that I am God."
Like Lent, Advent is a season of repentance.  The purple reminds us of that.  Sometimes we think that repentance is about telling God all about our sins!  (As if he doesn't already know!)  Maybe true repentance is best considered as a time of silence—"Enough talking about me…what do you have to say, God?"
Mark begins his Gospel rather powerfully:  "The beginning of the good news of Jesus Christ, the Son of God."  It's not really about me—it's for me!—but it's about Jesus.  Jesus is the good news!  Be still…and know Jesus.
The evangelist John announces God's coming into the world, the Christmas event, in this way:  "The Word became flesh and dwelt among us."  God speaks.  God's Word enters our humanity, our lives, our world.  How do we prepare for the "Word"?
In silence.  Ready to listen.  A highway into our hearts and minds by silence…for listening.
Here!  Listen to this!  Don't sing; don't hum along; just listen:
How silently, how silently,
The wondrous gift is given!
So God imparts to human hearts
The blessings of His heaven.
No ear may hear His coming;
But in this world of sin,
Where meek souls will receive Him, still
The dear Christ enters in.
Amen.  Come Lord Jesus.