Dear saints in Christ, I want you to have a quick look around, and tell me if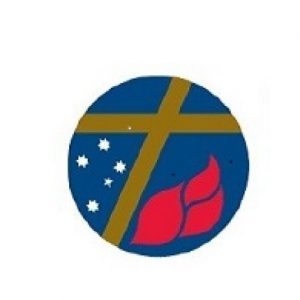 anyone here is wearing a golden halo. Is there anyone here who is looking particularly saintly today? Your husband or wife or your Child perhaps? Thefact is, we know that we're all pretty human, and being human means "warts and all". Most of us have probably said, "I'm no saint". However, in just a little while we are all going to say the words, 'I believe in the communion of saints'. And with these words we will confess our belief that there is more to the church than meets the eye.
 There is more to this Lutheran congregation, than meets the eye. The church is far more than a gathering of individuals loitering with religious intent. The church is, in fact, a communion of all people who have been made holy by Jesus – all believers in Christ, in all places, of all times. The communion of saints includes all Christians living now, all the faithful who have died, and even those believers who are yet to be! All of these are "saints" because they are baptized into Jesus, and all of these saints are a "communion", because being united to Jesus makes us united to each other.
The thing I'd like to focus on today is that all Christians as saints. All baptised believers are holy, and that's what the word 'saint' means: a holy person. And to look at the role that the saints (both living and departed) play in our lives, I'd like to focus on a passage from the Lutheran Confessions, one that I think all Christians could say 'Amen' to. Let me read the relevant passage to you.
Our Confession approves giving honour to the saints. This honour is threefold. The first is thanksgiving: we should thank God for showing examples of his mercy, revealing his will to save people, and giving teachers and other gifts to the church….The second honour is strengthening of our faith: when we see Peter forgiven after his denial, we are encouraged to believe that grace does indeed abound more than sin. The third honour is imitation, first of their faith and then of their other virtues, which each should imitate in accordance with his calling. (Apology, XXI)
Let's look at these three ways of honouring the saints
We give thanks to God for all his people. Because apart from the gospel and the sacraments, the saints are the greatest blessing the church has. Every saved man, woman and child is a wonderful cause for rejoicing. Every believer sitting in the pew today is evidence that God is still at work in the 21st century just as much as he was in the first. Every believer sitting here today demonstrates that miracles still occur. We should never stop giving thanks for the fact that despite all the faults we can find with others, and all the warts others can find with us, God has begun his work of salvation, and is daily working to bring it to completion.
Moreover, we can thank the Lord for those who taught us the faith and brought us to Jesus: our parents, our pastors, our teachers. Thank the Lord for every mature Christian who showed us what following Christ means. We thank the Lord also for ordinary Christians who have simply and steadfastly kept the faith, and for unknown Christians who were never remembered in this life, but will receive ample reward in the next. And, we can even thank the Lord for those living saints with whom we disagree, with whom we experience conflict, because they too are our brothers and sisters, and our unity in Christ transcends our disagreements and tensions. Every saint, in fact, is a demonstration of how much God wants to save us, how much he wants to forgive us.
And that brings me to the second reason for honouring the saints: for strengthening our faith. Again and again we discover that the saints are forgiven sinners. They may have been heroes of the faith, but they were highly forgiven heroes! The greatest hymn-writer of the Bible, King David, was an adulterer and a murderer. Jacob, who was named Israel, was dishonest and tricked his brother Esau. Peter denied his Lord three times. Paul confessed to a lifetime struggle with sin. And yet, God's grace triumphed over all their faults and his forgiveness covered their most disastrous sins. When they were weak, God showed his strength in them. Whenever they thought they had failed, God's word returned to them having achieved all it set out to do. And how does this strengthen our faith? Well, if God has shown such mercy to them, think of what mercy he will show to us. If God has used other sinners, he will also use us. There is hope for us all!
Imitate the saints who stand out are worth copying. They are good role models for the rest of us. St Paul quite unashamedly said: 'Join with others in following my example, brothers, and take note of those who live according to the pattern we gave you' (Philippians 3:17). We need heroes to inspire us. We have sporting heroes – why not faith heroes? A young Catholic I spoke to some time ago said that at their confirmation they chose a saint to whom they could look as a model and inspiration. What a good idea!
So, our honour of the saints is three-fold, say the confessions. We give thanks for them, our faith is strengthened by them, and we imitate them. To finish off, let me return to a point I made at the beginning:
The communion of saints is a spiritual reality, and therefore it's something we can hardly begin to understand in this life. But because we are all joined sacramentally to Christ – through baptism and holy communion – we are also joined to each other. We share all things in common. The spiritual strength of some saints help and sustain those who are weak. On the other hand, the sins and weakness of others are shared by the rest as well. As Paul writes to the Corinthians: 'If one part (of the body of Christ) suffers, every part suffers with it; if one part is honoured, every part rejoices with it'. So, on this festival of All Saints, let us give thanks for what we all share in common, and let us confess: "I believe in the Holy Spirit, the holy catholic church, the communion of saints". Amen.
And may the peace of God, which passes all understanding, guard our hearts and minds in Christ Jesus. Amen.