The Text: John 3:1-17
Nicodemus came at night!
A pastor had a discussion at a youth meeting about this fact; that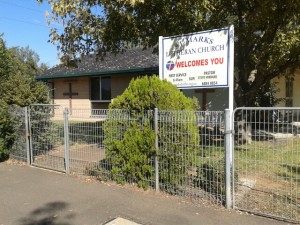 Nicodemus came at night and there were a few suggestions as to why this may have been.
Some suggested that he might have come at night because he was a member of the Pharisees and didn't want to be seen with Jesus by the other leaders or by other members of the ruling council the Sanhedrin. Some theologians don't accept this premise.
Another suggestion was that Nicodemus was nocturnal, a bit like a possum! Now while this gave us a good laugh apparently it might be closer to the mark than we thought. Nicodemus being a Pharisee was a theologian, but a theologian was not a job where you could earn a living so the majority of the Pharisees would have worked during the day, leaving only the night time for theological discussion.
Now another suggestion was that Nicodemus came at night so that he could have a decent conversation when others wouldn't be harassing Jesus, it seems if that was his goal then he got his wish.
Nicodemus came because he wanted to make sense of the something. A common question for the Pharisees in their theological discussion was; how and when will we see the kingdom of God?
Given we are going to talk about things that we can't understand by our own reason perhaps you might consider some of the thing that don't make sense to you.
There are many things do not make sense to us!
Why are sheep so stupid? Why does my dog keep running away? Why does God allow suffering? Why, why, why?
And then we come to the how's.
How did God create the earth and is our modern science close to finding out? How does a car work? How do computers work? How am I going to manage in this life?
Many of these things have perfectly legitimate answers, others just don't make sense.
Nicodemus wanted to make sense of something and it seems he only got more confused. His question related, we can assume, to the kingdom of God. When and where? When will the kingdom come? Where will the kingdom come?
He doesn't come straight out and ask Jesus this but Jesus pre-empts his question and sees through his preliminaries to get straight to the point. Nicodemus doesn't even get a question out – only a comment about Jesus having God with him, before Jesus gives the answer to his un-asked question. 'If you're looking for the Kingdom, you are not going to see it unless you are born again'.
Now if Nicodemus was confused before, he's really baffled now. Born again? Born once is confusing enough to understand, how we can be born again? A man can't climb back in where he came from so that he can come out again! It was hard enough for your mother the first time when you were an infant – how painful would it be to birth an adult!
But Jesus is not talking about physical birth, he's talking about birth with water and the spirit. Not water, and then the spirit, as if you can be re-born again, and then again, but water and the spirit together creating a new being. This new being is not driven by its flesh as the old being was but is now driven by the spirit who resides and does the good that pleases God.
Lutherans straight away think this relates to baptism. And why shouldn't we? It's not even a big stretch. And here in this passage the active work of God in baptism is highlighted.
During your birth I'm pretty sure you didn't do much. You didn't participate in the conception, that's a miracle of God and your Parents. You were passive through gestation, fed as your mother ate, living like a parasite, and then through your birth your mother once again did all the hard work and you probably just cried when it was over. So if you were passive and receptive in your physical birth, how much more are you passive and receptive in your new birth?
We are passive in our life of faith. You don't start by looking for God.
As much as we could say well Nicodemus came to God, so we must also come to God. Verses 16-17 tell us that God has come to us. If God in Jesus were not on this earth Nicodemus would have had no one to seek out.
Same goes for us, God seeks us out now by the Spirit blowing wherever he pleases. Blowing through parents who know that it's a good thing for their child to get baptised. Blowing through families who want good things for their children even if they cannot explain or put a name to them. Blowing through friends and neighbours who do the good deeds of the spirit because he resides in them leading their friends and neighbours to come and ask how and why are you doing these good things.
This passage must definitely be about baptism. Baptism where the participant is passive and God is active. Using water, word and spirit to get the job done to re-birth a person of the spirit.
If Nicodemus didn't understand, how can anyone of the flesh get it? We just don't and can't understand how and why God does these things. We need to refer back to the catechism where we learnt that 'I cannot by my own understanding… …but the Holy Spirit, calls, enlightens' and so on.
Nicodemus couldn't by his own understanding. Maybe he did get it eventually because he went with Joseph to help bury Jesus. Abraham couldn't by his own understanding comprehend how God could call him to be the father of many nations in his old age, but he eventually came to believe and have faith in the promise of his God. So Nicodemus could be seen as a real son of Abraham who came to believe, have faith in what God had told him.
We also can come to believe, we may not be able to understand for ourselves, but the Holy Spirit calls and enlightens us, the Holy Spirit gives us faith to believe that; we are reborn in baptism by water and the spirit. That we enter the kingdom in our new birth, that we have the spirit. That we are included when Jesus tells us that God sent his son for the whole world, for US.
Thank you, Lord Jesus, for coming into the world as Saviour. May we believe in you and be born again.
Peace…Amen.