Psalm 23
Psalm 23 has been called the best loved song in all literature, with the best known opening line. It has been treasured both at life's happiest occasions, like weddings, and on the saddest occasions, like funerals. For three thousand years, these priceless words have lifted the spirits of the depressed, comforted and assured the suffering and sick, and enriched the lives of all who know it by heart. Even people who say "I'm not very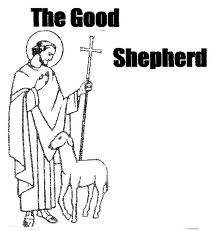 religious", generally know the 23rd Psalm. It is personal. "The Lord is MY Shepherd". "My" is a lover's sweetest and most exultant word as each looks into the other's face and says "You're mine".
As this psalm is read to hospital patients, one can see how they hang onto every word. Every word is written out of deep love for the Lord, and also out of many years of experiencing the Lord's liberating love just when it is most needed. These are the words of a believer who has been through many bitter battles, with their faith now stronger than ever. The words of our psalmist arouse in us feelings of being provided for, cared for and protected. We Christians cannot help but refer these reassuring words to Christ, our Good Shepherd. We cannot read it without thinking about our Good Shepherd who treasures every single one of us, so much so that he laid down his life for us.
The longer we live, the more we learn that Jesus is the one thing needful. We can say "I shall not want" because our good Lord provides us with all we really need for time and for eternity. "Green pastures" reminds us of how our Lord provides us with more, much more than we need to stay alive. Green is the most restful of all colours, and the most hopeful. Green implies showers of rain as well as sunshine. We need both, don't we? Green symbolises growth – growth in faith and love. "The best evidence of life is growth." "Still waters" are restful waters. Sheep won't lie down until they feel safe and secure. They fear fast-flowing water.
Our Good Shepherd orders our stops as well as our steps. People have often said after being laid abed due to an illness: "I needed that rest". Jesus knows better than anyone else the burdens of work pressures and busy schedules you carry. That's why he invites you: "Come to me, all you that are weary and are carrying heavy burdens, and I will give you rest (Matthew 11:28)." Christianity is about BEING as well as doing. "BE still and know that I am God", the Lord says to you. "In quietness and in trust shall be your strength", God's Word says to you. We pray in the words of a hymn: "Lord, take from our lives the strain and stress, and let our ordered lives confess the beauty of your peace." He has made us for himself, and our hearts are restless until they rest in him.
Our Good Shepherd is in the "restoration" business. He's a restoration specialist. Your Lord is deeply concerned when you wander away from his fold. When he hears us confess: "We have erred and strayed from your ways like lost sheep", he delights in restoring our souls and welcoming us back into his arms. No lost sheep is too hard for him to restore. After our souls have been battered by the knocks and setbacks of everyday life, the grace of Christ our caring Shepherd gives them new vigour and vitality. "As your days, so shall your strength be." How tenderly Jesus restored Peter at Easter. Life was new and fresh again. Peter's love for our Lord was re-ignited. As we say "yes" to Christ's question: "Do you love me?" we sense him restoring our souls again. We sometimes wonder about the direction of our lives. Today's Psalm reassures us that our Lord leads us in the way that is right for us.
Psalm 23 is so deeply treasured also because of its realism. It doesn't only record life's sunny days. In verse 3, the initial picture of robust contentment is followed by a more sombre picture. An experience all of us must face is mentioned: "the valley of the shadow of death". Faith enables us to face life's grim realities with unflinching frankness. This valley is a symbol of life's uncertain nature. It includes the valley of disappointment, depression and disease. Disease, disability or illness reminds us of our mortality. "Death" here includes the death of a friendship or marriage, a skill or talent, as well as of a loved one. We have the re-invigorating assurance that our Lord has experienced death before us, for us, and now offers us a share in his victory over death. What a comfort it is to know we don't have to go through it alone.
"For you are with me" (v4) is the climax of the Psalm. Faith triumphantly affirms: "YOU ARE WITH ME". We stake everything on our Lord's promise: "I am with you always", even when, and especially when, you feel otherwise. As threatening as the circumstances in our lives often appear, we trust a Shepherd who is greater than them. On the other side of our dark valley, the sun is shining.
The mother of a child dying of cancer taught her son the 23rd Psalm. She had him repeat: "The Lord is my Shepherd" by counting these five words on his fingers, starting with his thumb. His ring finger was the word "my". When he got to that word, she taught him to hold that finger in his fist, signifying his relationship with Jesus. When her son died, he was found holding his ring finger. He died in the arms of the Good Shepherd.
We fear no evil because he comforts us with the gracious promises in his Word. To be comforted by Christ is to be fortified. Comfort concerns strength through companionship. We needn't face any of life's battles on our own. Where his words of comfort are remembered, Christ is truly present.
In the Table he has prepared for us, the Lord's Supper, he reassures us of his creative and transforming presence. We meet enemies that seek to undermine or destroy our faith, enemies like temptation, apathy, envy, bitterness, resentment, the Devil, and despair. In Holy Communion, we receive protection from these enemies. The Lord's Table keeps our faith safe and strong. Luther said: "If you knew how many fiery darts the Devil is shooting at you, you'd run to the Lord's Table every chance you got." In Holy Communion, our Good Shepherd prepares us for trials and temptations of the coming week, and for the life of the world to come. The Bible calls the Holy Communion cup, the "cup of blessing". Who can calculate all the blessings we've received from our participation in the Lord's Supper? In Holy Communion, we've received our Lord's liberating love, peace such as the world can never give us, and an infectious hope.
Our world needs cheerful faces that banish gloom and exude hope. We don't have to sulk in the corner, trying to lick our wounds. Holy Communion is a healing medicine that soothes our wounds and cheers our spirits. This Sacrament "anoints" our faces so that they radiate with the presence of our Good Shepherd.
"Anointing' is an act of honour and recognition. Our Lord gives us himself from "the Table he has prepared for us", to acknowledge that we are his "sheep" whom he loves and treasures so much. That's why his goodness and mercy "pursue" us, rather than just "follow" us – that's what the original Hebrew word really means; they surround us all the days of our life. His mercy is as near to us as our plea: "God, be merciful to me, a sinner". His mercy meets us at every turn of our lives.
No wonder the psalmist wants to keep returning to the House of the Lord forever. The Hebrew word "dwell" also means "return to", just as we keep returning to our homes. David doesn't man that, in this life, he wants to stay permanently in God's House. Rather, he's passionately affirming that the Lord's House is his true home on earth. We remember David more for the way his psalms have enriched our worship and devotion to God than as king. "My love for your House burns in me like a fire", David sings in Psalm 69:9. Worshipping the Lord in the House of the Lord was the greatest joy and delight of David's life. In the presence of the Lord, David tells us, "there is fullness of joy (Psalm 16:11)", a joy we experience in part now, and in all its fullness and richness forevermore in heaven.
Because Christ, our Good Shepherd treasures you so dearly, he takes care of you more than you could be aware of or imagine.
            O Good Shepherd, bread life-giving,
            As we turn to Thee, believing,
            Guard and feed us evermore;
            Thou on earth our weakness guiding,
            We in heaven with Thee abiding,
            With all saints will Thee adore.    Amen.