Galatians 3:24
So the law was our guardian until Christ came that we might be justified by faith.
            My son is two years old, and he has a guardian. He goes to childcare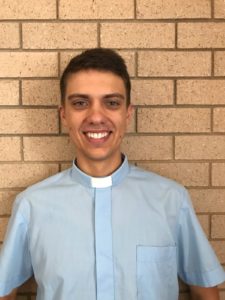 once a week, and there he is protected and guided by the workers. He'll go on to school and for 13 odd years he'll be taught and protected by many teachers and staff. Then he'll go out into the world, either work or study, but he won't have a guardian. When my son becomes an adult he will no longer have a guardian because, if the guardians have done their work well, he won't need one.
            Now God's people had in the beginning proven that they needed guidance and a guard. And so God provided clothing; He kept them away from the precious yet dangerous trees; He destroyed the evil corruption by the cleansing waters of the flood. It's not unlike a parent clothing their child, keeping the glassware locked away, and washing off filth. And then God made a covenant, began anew a relationship, with Noah; then with Abraham; then with all the people of Israel through Moses. Now every relationship begins with some ground rules; for instance, when you meet someone new you might give them a handshake, but you don't slap them across the face; so God lays down the ground rules for His relationship with His people. These ground rules, or family rules, are what we mean when we say, 'the law of God'; these ground rules the first five books of the Bible, also called the Law, were the guardian for God's ancient people.
Genesis, Exodus, Leviticus, Numbers, Deuteronomy. These writings are how God formed His ancient people. These are the stories that the Israelites told to their kids, it was Israelite and Midianite rather than cowboys and Indians; kids grew up wanting to be like Abraham not Superman; and they sang the wheels on the chariot (fall off in the mud) when they went on their school trips. As we read the history of God's people, truly we see how immature they were. How little respect they had for their relationship with God Almighty; and how like a child they needed a guardian, a guide. Thank God, He did give them these books, and the Prophets to speak to them and a book of songs to sing. But did they listen to their guardian? No, like so many children they didn't listen to their guardians, to the guidance given. They did not trust their teacher, and they went their own way; rejecting the guardian's protection God's people ran into danger.
And how often you do the same, failing to be faithful to God's family rules? This is not the fault of the guardian, it was not the fault of God's Holy Law that Israel adulterously worshipped idols, it is not the fault of good teachers that a child shoplifts. These ground rules set by God, this way of living in God's family, is not bad or wrong; but when you break it, the Law punishes you severely. The Law says every sinful descendant of Cain was killed by the flood. The Law says the wicked people of Sodom and Gomorrah were destroyed by fire, them and their land. The Law says when some priests and Levites worshipped incorrectly, they were consumed by fire and the earth. Like a harsh schoolteacher the Law of God brought the fear of death as it taught God's people what sin and wickedness is. The Law of God is Holy and Good, against it's harsh light your sin stinks as the thickest, darkest stain of dung.
"So the Law was our guardian until Christ came." The Law of God protected, prepared and taught God's people, like a boarding house can do until the children mature, until the time is right. "Until Christ came that we may be justified by faith. Now that this faith has come, we are no longer under a guardian." So what is the difference between the guardian and Christ? The Law of God shines a light on your failure and sin, when you hear its condemnation, you should shudder; yet the Law cannot fix you, it cannot live your life for you. God's Law, His family rules, cannot make you part of the family; what makes you part of the family is either begetting/birth or adoption. It is not God's Law that justifies you, it is Christ. When you are convicted of your sin, of your failure; do not rely on Genesis, trust in Jesus. Genesis, like a good school teacher, does teach you how to live with God, yet it can't take away your sin, it can't make right your relationship with God. This is why we don't have a lecture hall for a church building, yet why the sermon still has a place. After all, this is a house of prayer, not a hall for study. This is a gathering together with Christ.
As we gather here, Christ comes and renews the promises at your baptism; when you were adopted into God's family, when this relationship was certified and publicly made known. You, in Christ, are forgiven! He speaks to us in the readings and we speak with Him in song; having a chat before the meal. We together consider all the family, and what this family is all about; as we pray the prayer of the Church. Then we get ready to have a meal, communion with the family.
But the Law does not come to the table, the school teacher is not part of the family. We can respect the school teacher, but they are not your father, and they are not a son. This is why Paul can write: "in Christ Jesus you are all sons of God through faith, for all of you who were baptised into Christ have clothed yourselves with Christ." You are publicly part of this family by God's work in Baptism, not by your obedience to the Law. You are not baptised into Genesis; you are baptised into Jesus. You derive your identity not from Adam or Eve, but from the Only Begotten Son of God. You do not rely on your school teacher to make you live with Jesus, because you are already living in Him. As Jesus says, wherever two or three are gathered in my name I am with them, I in them and they in me; This is the effect of His Ascension, this is the result of the Holy Spirit's work at Pentecost and beyond. God's people were being taught and prepared up to the time of Christ, now mature we are called to live and work with Jesus by the strength the Holy Spirit provides. To care for those in your family with Christ's humility, to love your brothers and sisters in Christ, to be open about the wonders Christ has done in your life, to daily join Christ and all God's family in prayer. Yes, respect God's Law as good and right and true, yet trust in Jesus and live the life He has given you.
And the peace of God which surpasses all understanding, guard your hearts and minds in Christ Jesus, now unto life everlasting. Amen.
Pastor Joseph Graham.